Historia fabryki ołówków w Pruszkowie
Pozostałości po przemysłowej potędze Pruszkowa znikają. Skończyło się wyburzanie budynków fabryki obrabiarek, a niedawno z tego rejonu zniknęła też fabryka ołówków. Po południowej stronie torów kolejowych pozostałością po niej pozostanie tylko nazwa ulicy oraz prawdopodobnie budynki, które mają zostać przekształcone w lofty. Natomiast firma St. Majewski przeniosła się do nowej siedziby na Gąsinie, na ulicę… Kredkową.
Fabryka, znana pruszkowianom pod potoczną nazwą "Ołówkowa", jest silnie wpisana w historię Pruszkowa. Pierwszą w kraju wytwórnię ołówków założył w Warszawie, w 1889 roku, niespełna 30-letni inżynier Stanisław Majewski. Wraz ze wspólnikami komandytowymi, inżynierem kolejnictwa Józefem Zaborskim i kupcem Stanisławem Starzeńskim zarejestrowali przedsiębiorstwo pod nazwą "St. Majewski, Zaborski i Starzeński". Początkowo fabryka mieściła się przy Warszawskim Laboratorium Chemicznym, produkującym mydło toaletowe, perfumy i kosmetyki, a którego właścicielem był ojciec Majewskiego.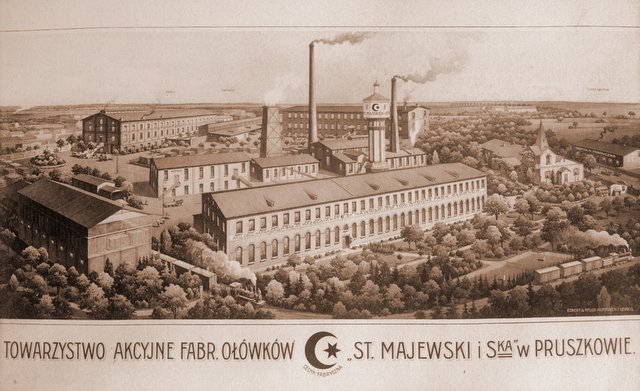 Fabryka szybko się rozwijała i zasoby lokalowe w pierwszej siedzibie szybko okazały się niewystarczające. Podjęto decyzję o przeniesieniu fabryki do nowej lokalizacji. W 1894 roku Majewski kupił w Pruszkowie plac i budynki po fabryce igieł, a już po kilku miesiącach uruchomiono tam produkcję ołówków. W 1899 roku przedsiębiorstwo zostało przekształcone w spółką akcyjną "Majewski i S-ka", której założycielami byli Stanisław Majewski i książę Michał Korybut-Woroniecki. Kapitał zakładowy spółki był w całości polski, co w tamtych czasach należało do rzadkości. Na pierwszym walnym zgromadzeniu akcjonariuszy zatwierdzono znak graficzny oraz przyjęto ambitny plan rozwoju i rozbudowy fabryki. Kryzys gospodarczy spowodował, że plan został wprowadzony w życie dopiero w latach 1907-1914. Podczas modernizacji zakupiono m.in. specjalistyczne niemieckie maszyny oraz wybudowano siłownię zasilaną potężnym silnikiem parowym z generatorem oraz kotłownią, zaopatrujące fabrykę w energię elektryczną i cieplną. Wybudowano komin, który na stałe wpisał się w panoramę Pruszkowa. Na terenie fabryki istniał jeszcze jeden, mniejszy komin, który został jednak zniszczony podczas niemieckiego ostrzału w 1914 roku. Będąca jeszcze w dobrym stanie maszyna parowa, po około 50 latach bezawaryjnej pracy, została w 1956 roku przekazana do Muzeum Techniki w Warszawie, gdzie można ją oglądać do dziś.
Przed I wojną światową przedsiębiorstwo dynamicznie się rozwijało. Duża część zysków przeznaczana była na dalszą mechanizację oraz prace badawcze. Produkowano m.in. ołówki grafitowe w 14 skalach twardości oraz kredki szkolne w 12 kolorach, rozpoczęto również wytwarzanie stalówek. Pruszkowska firma bardzo dobrze radziła sobie na rynku, śmiało konkurując z potentatami branży ołówkarskiej z Niemiec i Austro-Węgier. Pruszkowskie ołówki eksportowane były również na inne kontynenty, np. do Indii, Argentyny i Australii.
Dynamiczny rozwój fabryki został zatrzymany przez I wojnę światową, podczas której uległa ona bardzo poważnym zniszczeniom. Niemal dokładnie 100 lat temu, w październiku 1914 roku artyleria niemiecka ostrzeliwująca Pruszków za cel obrała między innymi "Ołówkową". Wybranie nieznaczącego ze względów militarnych obiektu nie było przypadkowe. Na decyzję o zniszczeniu fabryki wpływ miały naciski niemieckiego producenta ołówków Faber, dla których pruszkowskie przedsiębiorstwo stanowiło konkurencję. Niektóre źródła podają nawet, że oficerem prowadzącym ostrzał był syn właściciela niemieckiej fabryki.
Wycofujące się z Pruszkowa w 1915 roku wojska rosyjskie zarządziły ewakuację fabryki do Rosji. Wywieziono wszystkie niezniszczone przez Niemców maszyny oraz zgromadzone surowce. Razem z transportem wyjechały z Pruszkowa rodziny Majewskich i Zaborskich oraz część pracowników. Przez krótki okres fabryka prowadziła produkcję w Borysewie, a następnie w Sławiańsku. W 1918 roku Majewscy z załogą powrócili do Pruszkowa i rozpoczęli odbudowę fabryki pozyskując na ten cel fundusze z Pocztowej Kasy Oszczędności oraz z Ministerstwa Przemysłu i Handlu. Z czasem ster zarządzania fabryką przejęło kolejne pokolenie – Leszek Majewski pełnił obowiązki dyrektora zarządzającego, a kierownikiem (a później dyrektorem) do spraw technicznych został Ziemomysł Zaborski. Lata 1930 – 1939 uważa się za okres największego rozwoju. Do najbardziej znanych produktów pruszkowskiej fabryki należały ołówki o nazwach "Polonia", "India", "Perkun" i "Demon". Na światowej wystawie w Paryżu w 1935  roku ołówki grafitowe techniczne "Polonia 340" zostały uznane za najlepsze na świecie, a fabryka została uhonorowana złotym medalem. Z czasem asortyment oferowanych produktów poszerzył się o inne artykuły biurowe m.in. stalówki, pinezki, spinacze i linijki. Jednak głównym produktem pozostawały nadal wyroby ołówkarskie (m.in. ołówki grafitowe, kopiowe i kolorowe, kredki, oraz ołówki specjalne np. kosmetyczne i do pisania na szkle). Pruszkowskie ołówki eksportowane były do Azji, Austaralii i obu Ameryk. W 1938 roku, zatrudniająca 360 pracowników fabryka, wyprodukowała ponad 34 miliony sztuk ołówków i 16 milionów spinaczy. Aby zaspokoić potrzeby rynku przed rozpoczęciem roku szkolnego oraz Bożym Narodzeniem i Wielkanocą fabryka pracowała na dwie zmiany. Wynagrodzenie robotników było na poziomie średnim lub nieco wyższym niż w innych fabrykach w Pruszkowie i znacznie zróżnicowane w zależności od stanowiska. Dyrekcja dbała ponadto o stworzenie jak najlepszych warunków pracy, np. już w 1923 roku pracownicy mogli korzystać z pryszniców, a w niektórych działach fabryki zainstalowano wyciągi usuwające szkodliwe pyły. Fabryka posiadała jedną kamienicę dla pracowników oraz pomagała im w budowie domów oferując długoterminowe i nisko oprocentowane kredyty oraz drewno na budowę. Powstały również kasy oszczędnościowe, zabezpieczające rodziny pracowników na wypadek choroby lub śmierci. Dyrekcja fabryki zapewniała darmową pomoc medyczną, nie tylko dla pracowników, ale również ich rodzin. Wartościową pomocą dla pracowników były również artykuły żywnościowe oraz comiesięczny przydział drewna na opał i węgla na zimę. Z inicjatywy Leszka Majewskiego powstała przy fabryce "Stacja opieki nad matką i dzieckiem". Dyrektor planował również budowę w Podkowie Leśnej domów wczasowo-sanatoryjnych dla pracowników, jednak wybuch II wojny światowej pokrzyżował te plany.
Na terenie fabryki rozwijała się również działalność kulturalna i sportowa. Pracownicy mogli korzystać z przyfabrycznej biblioteki oraz wybudowanej w latach 20-tych XX wieku świetlicy z salą gimnastyczną i teatralno-koncertową. W świetlicy działały m.in. klub filmowy, teatr amatorski i chór, a później również orkiestra dęta. Przy fabryce działał klub sportowy "Ołówkowia" m.in. z sekcjami lekkoatletyki, piłki siatkowej i koszykówki. Powołano również Zakładowe Koło Cyklistów.  Dowodem na dobrą współpracę dyrekcji z robotnikami był gest pracowników z 1934 roku. Załoga z zebranych przez siebie składek ufundowała statuę Matki Boskiej, która do dziś stoi przy ul. Ołówkowej. Miał to być wyraz podziękowania za odbudowę fabryki.
Właściciele fabryki swoimi działaniami wychodzili również poza teren fabryki. Z inicjatywy inżyniera Majewskiego oraz Hrabiego Potulickiego powstała w Pruszkowie jedna z pierwszych szkół podstawowych. Mieściła się ona przy ulicy Starowiejskiej (obecnie Kościuszki) i początkowo przeznaczona była jedynie dla dzieci pracowników fabryki i majątku Potulickich. Z czasem stała się dostępna dla wszystkich dzieci z Pruszkowa, a w 1917 roku przyjęła imię Tadeusza Kościuszki, które nosi do dziś, jako liceum ogólnokształcące. Kolejna szkoła, jedynie dla dzieci pracowników fabryki, powstała w wynajmowanym budynku przy ulicy Ołówkowej 4. Dyrekcja sfinansowała również utworzenie przyfabrycznej straży pożarnej. W okresie międzywojennym jednostka liczyła 20 strażaków i uczestniczyła w działaniach również poza terenem fabryki. Majewski brał czynny udział w działaniach Komitetu Budowy Kościoła św. Kazimierza, przeznaczając na ten cel niemałe sumy. Po I wojnie światowej działania te kontynuował syn Stanisława, Leszek Majewski. W tym czasie fabryka sfinansowała m.in. witraże w oknach nowego kościoła.
W czasie II wojny światowej "Ołówkowa" nie doznała zniszczeń. Produkcja została jednak znacznie ograniczona do tzw. "wyrobów kryzysowych" – w procesie technologicznym nie stosowano wtedy operacji wykończeniowych oraz nie używano barwnych opakowań. Znaczna część produkcji przeznaczona była dla wojska niemieckiego, dla którego z czasem fabryka produkowała również nosze, a nawet trumny. Mimo ograniczonej produkcji, oficjalny stan zatrudnienia pozostawał na bardzo wysokim poziomie, z powodu fikcyjnego zatrudniania osób, którym groziły represje ze strony okupanta. Ciężka sytuacja fabryki zmusiła Majewskiego do sprzedaży domu w Warszawie, aby móc wypłacić pracownikom pensje. Wielu pracowników fabryki czynnie działało w ruchu oporu, w zakładowej stalówkowni istniała nawet przez pewien czas rusznikarnia, w której naprawiano broń. W maju 1944 roku Niemcy aresztowali i wywieźli na Pawiak około 20 pracowników fabryki, m. in. Ziemomysła i Zdzisława Zaborskich. Działania Leszka Majewskiego i przekazanie Niemcom znacznej sumy pieniędzy pozwoliły uwolnić większość z nich. Załoga fabryki organizowała również pomoc dla ludności Warszawy, która trafiała do obozu przejściowego Dulag 121. Potajemnie organizowano np. transporty więźniów z obozu do szpitala w Tworkach. W ostatnich miesiącach okupacji hitlerowskiej przyfabryczna elektrownia zasilała pruszkowskie szpitale i niektóre budynki mieszkalne.
Po zakończeniu wojny zorganizowano w fabryce punkt pomocy żołnierzom II Armii Wojska Polskiego podążającym na zachód. Pracownicy zrzekli się wtedy na rzecz wojska przysługującego im posiłku, który często był ich podstawowym w ciągu dnia. Żołnierze mogli również korzystać z pomocy medycznej oraz przyfabrycznej pralni i łaźni. W 1947 roku, uczczono pamięć pracowników fabryki, którzy zginęli z rąk okupantów, wznosząc Pomnik Męczeństwa. Jest to tablica, która do dziś znajduję się pod wspomnianą wcześniej kapliczką.
Pruszków został wyzwolony 17 stycznia 1945 roku. Trzy dni później miała miejsce pierwsza próba upaństwowienia fabryki. Dzięki postawie pracowników, którzy bardzo dobrze oceniali pracę Majewskiego i jego kontakty z pracownikami, fabryka jeszcze przez 3 lata pozostawała w rękach założycieli. Dla kontrastu można wspomnieć o pruszkowskiej fabryce fajansu, której pracownicy z radością przyjęli informację o upaństwowieniu, a dotychczasowego dyrektora wywieźli na taczkach. W  Ołówkowej powołano jedynie Radę Fabryczną, nazywaną później Komitetem Fabrycznym, który miał pełnić rolę przedstawiciela ludu. Rok później fabryka została objęta działalnością Związku Zawodowego Pracowników Przemysłu Chemicznego.
W kwietniu 1945 roku Leszek Majewski obchodził 25-lecie pracy w fabryce. Z tej okazji załoga zorganizowała uroczystości, podczas których przekazała dyrektorowi Księgę Pamiątkową. W 1946 roku podpisano umowę wstępną dzierżawy fabryki Centralnemu Zarządowi Spółdzielczości Pracy "Społem". Był to kolejny krok mający uchronić przedsiębiorstwo przed upaństwowieniem. Fabrykę, zatrudniającej wtedy 560 osób,  upaństwowiono jednak w 1948 roku, co zostało przyjęte przez załogę z dużym niezadowoleniem. W tym czasie płace robotników spadły o 17%, ograniczono również dodatki w postaci drewna i artykułów spożywczych. Majewskiemu zabroniono wstępu na teren fabryki. W 1950 roku przeniesiono do Szczecina produkcję stalówek i spinaczy oraz zaniechano produkcji materiałów nieołówkowych. W 1951 roku zmieniono nazwę fabryki na Pruszkowskie Zakłady Materiałów Biurowych. W latach 50-tych i 60-tych zmodernizowano większość działających maszyn, uruchomiono nową kotłownię oraz wybudowano kilka nowych budynków. W 1979 roku fabryka produkowała ponad 290 milionów sztuk wyrobów ołówkarskich rocznie, z czego 70 milionów sztuk na eksport. Pod koniec lat 60-tych fabryka posiadała ośrodek kolonijny i wczasowy dla pracowników w Zdworzu. W 1969 roku zbudowano na terenie fabryki kryty basen z podgrzewaną wodą, a który z pewnością doskonale pamięta duża część Pruszkowian.
W latach osiemdziesiątych nastąpiła próba odzyskania fabryki przez rodziny pierwotnych właścicieli. Długotrwałe działania rodzin Majewskich i Zaborskich przyniosły efekt dopiero w 1995 roku, kiedy fabryka została sprywatyzowana. Spadkobiercy dawnych akcjonariuszy weszli w posiadanie 65% akcji, pozostałe 35% stało się własnością pracowników. Fabryka powróciła do dawnej nazwy "St. Majewski Spółka Akcyjna". Ważnym wydarzeniem we współczesnej historii fabryki była fuzja ze Strzegomskimi Zakładami Wyrobów Papierowych "Unipap" w 2010 roku. Z połączenia obu fabryk powstała największa w Polsce grupa produkcyjno-handlowa na rynku artykułów szkolno-biurowych. W bieżącym roku, świętująca jubileusz 125-lecia firma zmieniła siedzibę. Nowa fabryka została wybudowana przy ulicy Kredkowej na terenie pruszkowskiej podstrefy Łódzkiej Specjalnej Strefy Ekonomicznej. Prezes zarządu fabryki w okolicznościowym przemówieniu powiedział: "Cieszę, się że oddaliśmy centrum Pruszkowa jego mieszkańcom i liczę, że teren po naszej dawnej fabryce doda wkrótce uroku dynamicznie zmieniającemu się miastu".
Za pomoc w uzyskaniu zdjęć z archiwum rodzin Majewskich i Zaborskich dziękuję Panu Arturowi Cyronkowi.
Przy tworzeniu powyższego tekstu wykorzystano następujące publikacje:
"Zarys dziejów pruszkowskich ołówków (1889-1979)" autorstwa Witolda Koneckiego
"Pruszków Przemysłowy" autorstwa Jerzego Kalety
"Działalność społeczna i kulturalna właścicieli i pracowników Fabryki Ołówków Majewski i S-ka na tle zarysu historycznego fabryki w latach 1889-1948" autorstwa Lidii Kijewskiej-Wittstock
Historia fabryki ołówków w Pruszkowie

http://www.pruszkowmowi.pl/2014/11/historia-fabryki-olowkow-w-pruszkowie/

http://www.pruszkowmowi.pl/wp-content/uploads/2014/11/olowki1.jpg

http://www.pruszkowmowi.pl/wp-content/uploads/2014/11/olowki1-300x300.jpg

Historia

Polecane

Pruszków

Tomasz Wasiak

fabryka,historia,ołówkowa,pruszków,przemysł

Pozostałości po przemysłowej potędze Pruszkowa znikają. Skończyło się wyburzanie budynków fabryki obrabiarek, a niedawno z tego rejonu zniknęła też fabryka ołówków. Po południowej stronie torów kolejowych pozostałością po niej pozostanie tylko nazwa ulicy oraz prawdopodobnie budynki, które mają zostać przekształcone w lofty. Natomiast firma St. Majewski przeniosła się do...

<p style="text-align: justify;"><strong>Pozostałości po przemysłowej potędze Pruszkowa znikają. Skończyło się wyburzanie budynków fabryki obrabiarek, a niedawno z tego rejonu zniknęła też fabryka ołówków. Po południowej stronie torów kolejowych pozostałością po niej pozostanie tylko nazwa ulicy oraz prawdopodobnie budynki, które mają zostać przekształcone w lofty. Natomiast firma St. Majewski przeniosła się do nowej siedziby na Gąsinie, na ulicę... Kredkową.</strong></p> <p style="text-align: justify;">Fabryka, znana pruszkowianom pod potoczną nazwą "Ołówkowa", jest silnie wpisana w historię Pruszkowa. Pierwszą w kraju wytwórnię ołówków założył w Warszawie, w 1889 roku, niespełna 30-letni inżynier Stanisław Majewski. Wraz ze wspólnikami komandytowymi, inżynierem kolejnictwa Józefem Zaborskim i kupcem Stanisławem Starzeńskim zarejestrowali przedsiębiorstwo pod nazwą "St. Majewski, Zaborski i Starzeński". Początkowo fabryka mieściła się przy Warszawskim Laboratorium Chemicznym, produkującym mydło toaletowe, perfumy i kosmetyki, a którego właścicielem był ojciec Majewskiego.</p> <p style="text-align: justify;"><img class="aligncenter size-full wp-image-3900" src="http://pruszkowmowi.pl/wp-content/uploads/2014/11/olowki1.jpg" alt="Fabryka ołówków" width="640" height="391" /></p> <p style="text-align: justify;">Fabryka szybko się rozwijała i zasoby lokalowe w pierwszej siedzibie szybko okazały się niewystarczające. Podjęto decyzję o przeniesieniu fabryki do nowej lokalizacji. W 1894 roku Majewski kupił w Pruszkowie plac i budynki po fabryce igieł, a już po kilku miesiącach uruchomiono tam produkcję ołówków. W 1899 roku przedsiębiorstwo zostało przekształcone w spółką akcyjną "Majewski i S-ka", której założycielami byli Stanisław Majewski i książę Michał Korybut-Woroniecki. Kapitał zakładowy spółki był w całości polski, co w tamtych czasach należało do rzadkości. Na pierwszym walnym zgromadzeniu akcjonariuszy zatwierdzono znak graficzny oraz przyjęto ambitny plan rozwoju i rozbudowy fabryki. Kryzys gospodarczy spowodował, że plan został wprowadzony w życie dopiero w latach 1907-1914. Podczas modernizacji zakupiono m.in. specjalistyczne niemieckie maszyny oraz wybudowano siłownię zasilaną potężnym silnikiem parowym z generatorem oraz kotłownią, zaopatrujące fabrykę w energię elektryczną i cieplną. Wybudowano komin, który na stałe wpisał się w panoramę Pruszkowa. Na terenie fabryki istniał jeszcze jeden, mniejszy komin, który został jednak zniszczony podczas niemieckiego ostrzału w 1914 roku. Będąca jeszcze w dobrym stanie maszyna parowa, po około 50 latach bezawaryjnej pracy, została w 1956 roku przekazana do Muzeum Techniki w Warszawie, gdzie można ją oglądać do dziś.</p> <p style="text-align: justify;">Przed I wojną światową przedsiębiorstwo dynamicznie się rozwijało. Duża część zysków przeznaczana była na dalszą mechanizację oraz prace badawcze. Produkowano m.in. ołówki grafitowe w 14 skalach twardości oraz kredki szkolne w 12 kolorach, rozpoczęto również wytwarzanie stalówek. Pruszkowska firma bardzo dobrze radziła sobie na rynku, śmiało konkurując z potentatami branży ołówkarskiej z Niemiec i Austro-Węgier. Pruszkowskie ołówki eksportowane były również na inne kontynenty, np. do Indii, Argentyny i Australii.</p> <p style="text-align: justify;">Dynamiczny rozwój fabryki został zatrzymany przez I wojnę światową, podczas której uległa ona bardzo poważnym zniszczeniom. Niemal dokładnie 100 lat temu, w październiku 1914 roku artyleria niemiecka ostrzeliwująca Pruszków za cel obrała między innymi "Ołówkową". Wybranie nieznaczącego ze względów militarnych obiektu nie było przypadkowe. Na decyzję o zniszczeniu fabryki wpływ miały naciski niemieckiego producenta ołówków Faber, dla których pruszkowskie przedsiębiorstwo stanowiło konkurencję. Niektóre źródła podają nawet, że oficerem prowadzącym ostrzał był syn właściciela niemieckiej fabryki.</p> <p style="text-align: justify;">Wycofujące się z Pruszkowa w 1915 roku wojska rosyjskie zarządziły ewakuację fabryki do Rosji. Wywieziono wszystkie niezniszczone przez Niemców maszyny oraz zgromadzone surowce. Razem z transportem wyjechały z Pruszkowa rodziny Majewskich i Zaborskich oraz część pracowników. Przez krótki okres fabryka prowadziła produkcję w Borysewie, a następnie w Sławiańsku. W 1918 roku Majewscy z załogą powrócili do Pruszkowa i rozpoczęli odbudowę fabryki pozyskując na ten cel fundusze z Pocztowej Kasy Oszczędności oraz z Ministerstwa Przemysłu i Handlu. Z czasem ster zarządzania fabryką przejęło kolejne pokolenie - Leszek Majewski pełnił obowiązki dyrektora zarządzającego, a kierownikiem (a później dyrektorem) do spraw technicznych został Ziemomysł Zaborski. Lata 1930 - 1939 uważa się za okres największego rozwoju. Do najbardziej znanych produktów pruszkowskiej fabryki należały ołówki o nazwach "Polonia", "India", "Perkun" i "Demon". Na światowej wystawie w Paryżu w 1935  roku ołówki grafitowe techniczne "Polonia 340" zostały uznane za najlepsze na świecie, a fabryka została uhonorowana złotym medalem. Z czasem asortyment oferowanych produktów poszerzył się o inne artykuły biurowe m.in. stalówki, pinezki, spinacze i linijki. Jednak głównym produktem pozostawały nadal wyroby ołówkarskie (m.in. ołówki grafitowe, kopiowe i kolorowe, kredki, oraz ołówki specjalne np. kosmetyczne i do pisania na szkle). Pruszkowskie ołówki eksportowane były do Azji, Austaralii i obu Ameryk. W 1938 roku, zatrudniająca 360 pracowników fabryka, wyprodukowała ponad 34 miliony sztuk ołówków i 16 milionów spinaczy. Aby zaspokoić potrzeby rynku przed rozpoczęciem roku szkolnego oraz Bożym Narodzeniem i Wielkanocą fabryka pracowała na dwie zmiany. Wynagrodzenie robotników było na poziomie średnim lub nieco wyższym niż w innych fabrykach w Pruszkowie i znacznie zróżnicowane w zależności od stanowiska. Dyrekcja dbała ponadto o stworzenie jak najlepszych warunków pracy, np. już w 1923 roku pracownicy mogli korzystać z pryszniców, a w niektórych działach fabryki zainstalowano wyciągi usuwające szkodliwe pyły. Fabryka posiadała jedną kamienicę dla pracowników oraz pomagała im w budowie domów oferując długoterminowe i nisko oprocentowane kredyty oraz drewno na budowę. Powstały również kasy oszczędnościowe, zabezpieczające rodziny pracowników na wypadek choroby lub śmierci. Dyrekcja fabryki zapewniała darmową pomoc medyczną, nie tylko dla pracowników, ale również ich rodzin. Wartościową pomocą dla pracowników były również artykuły żywnościowe oraz comiesięczny przydział drewna na opał i węgla na zimę. Z inicjatywy Leszka Majewskiego powstała przy fabryce "Stacja opieki nad matką i dzieckiem". Dyrektor planował również budowę w Podkowie Leśnej domów wczasowo-sanatoryjnych dla pracowników, jednak wybuch II wojny światowej pokrzyżował te plany.</p> <p style="text-align: justify;">Na terenie fabryki rozwijała się również działalność kulturalna i sportowa. Pracownicy mogli korzystać z przyfabrycznej biblioteki oraz wybudowanej w latach 20-tych XX wieku świetlicy z salą gimnastyczną i teatralno-koncertową. W świetlicy działały m.in. klub filmowy, teatr amatorski i chór, a później również orkiestra dęta. Przy fabryce działał klub sportowy "Ołówkowia" m.in. z sekcjami lekkoatletyki, piłki siatkowej i koszykówki. Powołano również Zakładowe Koło Cyklistów.  Dowodem na dobrą współpracę dyrekcji z robotnikami był gest pracowników z 1934 roku. Załoga z zebranych przez siebie składek ufundowała statuę Matki Boskiej, która do dziś stoi przy ul. Ołówkowej. Miał to być wyraz podziękowania za odbudowę fabryki.</p> <p style="text-align: justify;">Właściciele fabryki swoimi działaniami wychodzili również poza teren fabryki. Z inicjatywy inżyniera Majewskiego oraz Hrabiego Potulickiego powstała w Pruszkowie jedna z pierwszych szkół podstawowych. Mieściła się ona przy ulicy Starowiejskiej (obecnie Kościuszki) i początkowo przeznaczona była jedynie dla dzieci pracowników fabryki i majątku Potulickich. Z czasem stała się dostępna dla wszystkich dzieci z Pruszkowa, a w 1917 roku przyjęła imię Tadeusza Kościuszki, które nosi do dziś, jako liceum ogólnokształcące. Kolejna szkoła, jedynie dla dzieci pracowników fabryki, powstała w wynajmowanym budynku przy ulicy Ołówkowej 4. Dyrekcja sfinansowała również utworzenie przyfabrycznej straży pożarnej. W okresie międzywojennym jednostka liczyła 20 strażaków i uczestniczyła w działaniach również poza terenem fabryki. Majewski brał czynny udział w działaniach Komitetu Budowy Kościoła św. Kazimierza, przeznaczając na ten cel niemałe sumy. Po I wojnie światowej działania te kontynuował syn Stanisława, Leszek Majewski. W tym czasie fabryka sfinansowała m.in. witraże w oknach nowego kościoła.</p> <p style="text-align: justify;">W czasie II wojny światowej "Ołówkowa" nie doznała zniszczeń. Produkcja została jednak znacznie ograniczona do tzw. "wyrobów kryzysowych" - w procesie technologicznym nie stosowano wtedy operacji wykończeniowych oraz nie używano barwnych opakowań. Znaczna część produkcji przeznaczona była dla wojska niemieckiego, dla którego z czasem fabryka produkowała również nosze, a nawet trumny. Mimo ograniczonej produkcji, oficjalny stan zatrudnienia pozostawał na bardzo wysokim poziomie, z powodu fikcyjnego zatrudniania osób, którym groziły represje ze strony okupanta. Ciężka sytuacja fabryki zmusiła Majewskiego do sprzedaży domu w Warszawie, aby móc wypłacić pracownikom pensje. Wielu pracowników fabryki czynnie działało w ruchu oporu, w zakładowej stalówkowni istniała nawet przez pewien czas rusznikarnia, w której naprawiano broń. W maju 1944 roku Niemcy aresztowali i wywieźli na Pawiak około 20 pracowników fabryki, m. in. Ziemomysła i Zdzisława Zaborskich. Działania Leszka Majewskiego i przekazanie Niemcom znacznej sumy pieniędzy pozwoliły uwolnić większość z nich. Załoga fabryki organizowała również pomoc dla ludności Warszawy, która trafiała do obozu przejściowego Dulag 121. Potajemnie organizowano np. transporty więźniów z obozu do szpitala w Tworkach. W ostatnich miesiącach okupacji hitlerowskiej przyfabryczna elektrownia zasilała pruszkowskie szpitale i niektóre budynki mieszkalne. Po zakończeniu wojny zorganizowano w fabryce punkt pomocy żołnierzom II Armii Wojska Polskiego podążającym na zachód. Pracownicy zrzekli się wtedy na rzecz wojska przysługującego im posiłku, który często był ich podstawowym w ciągu dnia. Żołnierze mogli również korzystać z pomocy medycznej oraz przyfabrycznej pralni i łaźni. W 1947 roku, uczczono pamięć pracowników fabryki, którzy zginęli z rąk okupantów, wznosząc Pomnik Męczeństwa. Jest to tablica, która do dziś znajduję się pod wspomnianą wcześniej kapliczką.</p> <p style="text-align: justify;">Pruszków został wyzwolony 17 stycznia 1945 roku. Trzy dni później miała miejsce pierwsza próba upaństwowienia fabryki. Dzięki postawie pracowników, którzy bardzo dobrze oceniali pracę Majewskiego i jego kontakty z pracownikami, fabryka jeszcze przez 3 lata pozostawała w rękach założycieli. Dla kontrastu można wspomnieć o pruszkowskiej fabryce fajansu, której pracownicy z radością przyjęli informację o upaństwowieniu, a dotychczasowego dyrektora wywieźli na taczkach. W  Ołówkowej powołano jedynie Radę Fabryczną, nazywaną później Komitetem Fabrycznym, który miał pełnić rolę przedstawiciela ludu. Rok później fabryka została objęta działalnością Związku Zawodowego Pracowników Przemysłu Chemicznego.</p> <p style="text-align: justify;">W kwietniu 1945 roku Leszek Majewski obchodził 25-lecie pracy w fabryce. Z tej okazji załoga zorganizowała uroczystości, podczas których przekazała dyrektorowi Księgę Pamiątkową. W 1946 roku podpisano umowę wstępną dzierżawy fabryki Centralnemu Zarządowi Spółdzielczości Pracy "Społem". Był to kolejny krok mający uchronić przedsiębiorstwo przed upaństwowieniem. Fabrykę, zatrudniającej wtedy 560 osób,  upaństwowiono jednak w 1948 roku, co zostało przyjęte przez załogę z dużym niezadowoleniem. W tym czasie płace robotników spadły o 17%, ograniczono również dodatki w postaci drewna i artykułów spożywczych. Majewskiemu zabroniono wstępu na teren fabryki. W 1950 roku przeniesiono do Szczecina produkcję stalówek i spinaczy oraz zaniechano produkcji materiałów nieołówkowych. W 1951 roku zmieniono nazwę fabryki na Pruszkowskie Zakłady Materiałów Biurowych. W latach 50-tych i 60-tych zmodernizowano większość działających maszyn, uruchomiono nową kotłownię oraz wybudowano kilka nowych budynków. W 1979 roku fabryka produkowała ponad 290 milionów sztuk wyrobów ołówkarskich rocznie, z czego 70 milionów sztuk na eksport. Pod koniec lat 60-tych fabryka posiadała ośrodek kolonijny i wczasowy dla pracowników w Zdworzu. W 1969 roku zbudowano na terenie fabryki kryty basen z podgrzewaną wodą, a który z pewnością doskonale pamięta duża część Pruszkowian.</p> <p style="text-align: justify;">W latach osiemdziesiątych nastąpiła próba odzyskania fabryki przez rodziny pierwotnych właścicieli. Długotrwałe działania rodzin Majewskich i Zaborskich przyniosły efekt dopiero w 1995 roku, kiedy fabryka została sprywatyzowana. Spadkobiercy dawnych akcjonariuszy weszli w posiadanie 65% akcji, pozostałe 35% stało się własnością pracowników. Fabryka powróciła do dawnej nazwy "St. Majewski Spółka Akcyjna". Ważnym wydarzeniem we współczesnej historii fabryki była fuzja ze Strzegomskimi Zakładami Wyrobów Papierowych "Unipap" w 2010 roku. Z połączenia obu fabryk powstała największa w Polsce grupa produkcyjno-handlowa na rynku artykułów szkolno-biurowych. W bieżącym roku, świętująca jubileusz 125-lecia firma zmieniła siedzibę. Nowa fabryka została wybudowana przy ulicy Kredkowej na terenie pruszkowskiej podstrefy Łódzkiej Specjalnej Strefy Ekonomicznej. Prezes zarządu fabryki w okolicznościowym przemówieniu powiedział: "Cieszę, się że oddaliśmy centrum Pruszkowa jego mieszkańcom i liczę, że teren po naszej dawnej fabryce doda wkrótce uroku dynamicznie zmieniającemu się miastu".</p> <p style="text-align: justify;"><em>Za pomoc w uzyskaniu zdjęć z archiwum rodzin Majewskich i Zaborskich dziękuję Panu Arturowi Cyronkowi.</em></p> <p style="text-align: justify;"><em>Przy tworzeniu powyższego tekstu wykorzystano następujące publikacje:</em> <em>"Zarys dziejów pruszkowskich ołówków (1889-1979)" autorstwa Witolda Koneckiego</em> <em>"Pruszków Przemysłowy" autorstwa Jerzego Kalety</em> <em>"Działalność społeczna i kulturalna właścicieli i pracowników Fabryki Ołówków Majewski i S-ka na tle zarysu historycznego fabryki w latach 1889-1948" autorstwa Lidii Kijewskiej-Wittstock</em></p>

Tomasz

Wasiak

tomek@alleycat.pl

Administrator

Introwertyk, programista, któremu pisanie kodu przychodzi łatwiej niż pisanie tekstu. Od urodzenia mieszkający w Pruszkowie, interesujący się zarówno jego teraźniejszością jak i przeszłością.

Pruszków Mówi