Pokazy filmu dokumentalnego "Szesnastu" – w 72. rocznicę aresztowania przywódców Polskiego Państwa Podziemnego
2 kwietnia, w najbliższą niedzielę, w ramach obchodów 72. rocznicy aresztowania w Pruszkowie przywódców Polskiego Państwa Podziemnego, w Muzeum Dulag 121 odbędą się pokazy filmu dokumentalnego "Szesnastu" w reżyserii Włodzimierza Dusiewicza (Polska, 1989). Na projekcje filmowe zapraszamy o godz. 12, 13, 14, 15 do siedziby Muzeum Dulag 121 przy ul. 3 Maja 8A w Pruszkowie. Wstęp wolny.
"Szesnastu" to film dokumentalny poświęcony historii szesnastu przywódców Polskiego Państwa Podziemnego, aresztowanych podstępnie w Pruszkowie 27 i 28 marca 1945 r przez NKWD  i wywiezionych do Moskwy. Ich  proces toczył się przed Kolegium Wojskowym Sądu Najwyższego ZSRR i był to bezprecedensowy przypadek sądzenia władz państwowych jednego państwa przez organa sądowe innego państwa na mocy jego przepisów prawnych. Dokument jest zapisem postępowania sądowego, jakie odbyło się w dniach 17-21 czerwca 1945 roku w Moskwie. Przedstawia oryginalne relacje i wypowiedzi oskarżonych, świadków oraz sędziów.
Włodzimierz Zbigniew Dusiewicz ps. Dusza – ur. 13 stycznia 1931r., polski reżyser i scenarzysta filmów dokumentalnych, Zawiszak, powstaniec warszawski, pisarz, podharcmistrz, członek Stowarzyszenia Filmowców Polskich, pracownik Rady Ochrony Pamięci Walk i Męczeństwa, prezes Stowarzyszenia Rodzina Katyńska w Warszawie (1994–1995) i prezes Federacji Rodzin Katyńskich (1993–2006). W 2012 odznaczony Medalem "Pro Patria" w uznaniu szczególnych zasług  w kultywowaniu pamięci o walce o niepodległość Polski.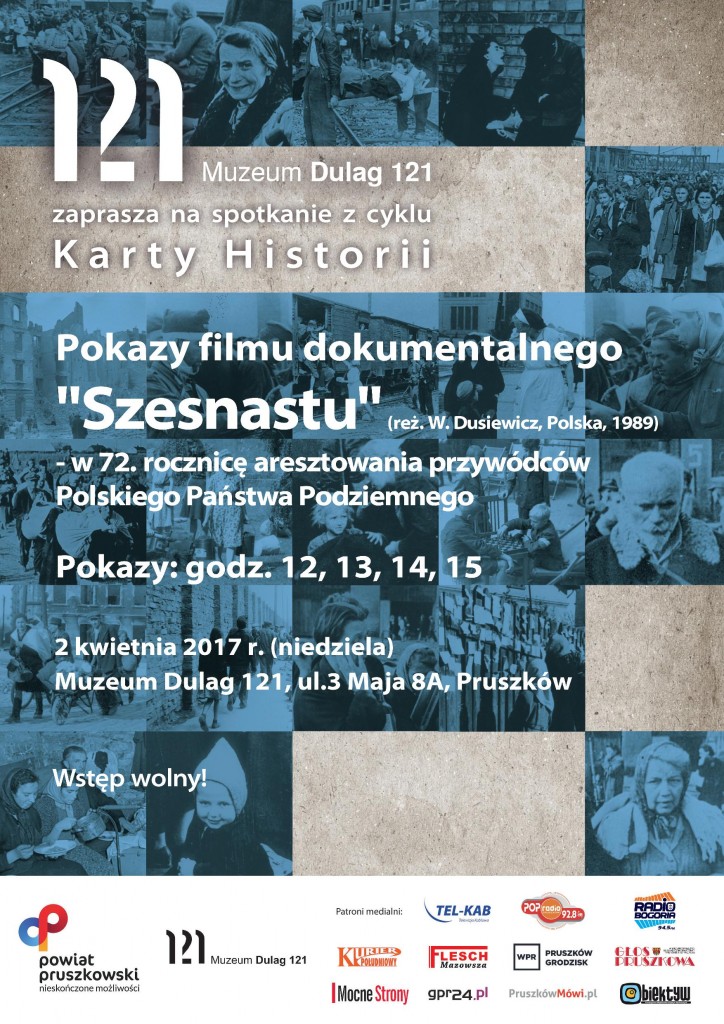 Pokazy filmu dokumentalnego "Szesnastu" – w 72. rocznicę aresztowania przywódców Polskiego Państwa Podziemnego

http://www.pruszkowmowi.pl/2017/03/pokazy-filmu-dokumentalnego-szesnastu-w-72-rocznice-aresztowania-przywodcow-polskiego-panstwa-podziemnego/

http://www.pruszkowmowi.pl/wp-content/uploads/2017/03/plakat-pokazy-filmowe-724x1024.jpg

http://www.pruszkowmowi.pl/wp-content/uploads/2017/03/plakat-pokazy-filmowe-300x300.jpg

Aktualności

Muzeum Dulag121

Wydarzenia

film,Muzeum Dulag 121,wydarzenie

2 kwietnia, w najbliższą niedzielę, w ramach obchodów 72. rocznicy aresztowania w Pruszkowie przywódców Polskiego Państwa Podziemnego, w Muzeum Dulag 121 odbędą się pokazy filmu dokumentalnego "Szesnastu" w reżyserii Włodzimierza Dusiewicza (Polska, 1989). Na projekcje filmowe zapraszamy o godz. 12, 13, 14, 15 do siedziby Muzeum Dulag 121 przy...

<strong>2 kwietnia, w najbliższą niedzielę, w ramach obchodów 72. rocznicy aresztowania w Pruszkowie przywódców Polskiego Państwa Podziemnego, w Muzeum Dulag 121 odbędą się pokazy filmu dokumentalnego "Szesnastu" w reżyserii Włodzimierza Dusiewicza (Polska, 1989). Na projekcje filmowe zapraszamy o godz. 12, 13, 14, 15 do siedziby Muzeum Dulag 121 przy ul. 3 Maja 8A w Pruszkowie. Wstęp wolny.</strong> "Szesnastu" to film dokumentalny poświęcony historii szesnastu przywódców Polskiego Państwa Podziemnego, aresztowanych podstępnie w Pruszkowie 27 i 28 marca 1945 r przez NKWD  i wywiezionych do Moskwy. Ich  proces toczył się przed Kolegium Wojskowym Sądu Najwyższego ZSRR i był to bezprecedensowy przypadek sądzenia władz państwowych jednego państwa przez organa sądowe innego państwa na mocy jego przepisów prawnych. Dokument jest zapisem postępowania sądowego, jakie odbyło się w dniach 17-21 czerwca 1945 roku w Moskwie. Przedstawia oryginalne relacje i wypowiedzi oskarżonych, świadków oraz sędziów. <strong>Włodzimierz Zbigniew Dusiewicz</strong> ps. Dusza - ur. 13 stycznia 1931r., polski reżyser i scenarzysta filmów dokumentalnych, Zawiszak, powstaniec warszawski, pisarz, podharcmistrz, członek Stowarzyszenia Filmowców Polskich, pracownik Rady Ochrony Pamięci Walk i Męczeństwa, prezes Stowarzyszenia Rodzina Katyńska w Warszawie (1994–1995) i prezes Federacji Rodzin Katyńskich (1993–2006). W 2012 odznaczony Medalem "Pro Patria" w uznaniu szczególnych zasług  w kultywowaniu pamięci o walce o niepodległość Polski. <a href="http://www.pruszkowmowi.pl/wp-content/uploads/2017/03/plakat-pokazy-filmowe.jpg"><img class="aligncenter size-large wp-image-8002" src="http://www.pruszkowmowi.pl/wp-content/uploads/2017/03/plakat-pokazy-filmowe-724x1024.jpg" alt="plakat pokazy filmowe" width="724" height="1024" /></a>

dulag@dulag121.pl

Author

Pruszków Mówi