Przystanek Historia zawita do Pruszkowa – pokazy filmu w Muzeum Dulag 121
16 lipca Muzeum Dulag 121 i warszawski oddział Instytutu Pamięci Narodowej zapraszają na pierwsze w Pruszkowie spotkanie z cyklu "Przystanek Historia w Muzeum Dulag 121". W ramach spotkania w Muzeum Dulag 121 (ul. 3 Maja 8A, Pruszków) w godz. 11.00, 12.10, 13.20 oraz 14.30 odbędą się bezpłatne pokazy filmu "Jaster. Tajemnica Hela". Dokument przedstawia historię żołnierza Armii Krajowej, którego skomplikowane i tragiczne losy wojenne do dziś stanowią niewyjaśnioną do końca zagadkę.
"Jaster. Tajemnica Hela" to film dokumentalny opowiadający historię żołnierza Armii Krajowej, Stanisława Jastera, ps. Hel, który na skutek nieszczęśliwego, i nie do końca wyjaśnionego splotu okoliczności, latem 1943 roku, został posądzony przez swoich towarzyszy broni o kolaborację z Niemcami. Już w lipcu tego samego roku Jaster został  stracony bez przeprowadzenia rzetelnej sprawy sądowej. Jego narzeczona Danuta Leśniewska (później Sławińska), pełniąca w 1944-1945  funkcję sanitariuszki i tłumaczki w obozie Dulag 121 w Pruszkowie, zrozpaczona po śmierci Jastera, przechowywała przez całe swoje życie pamiątki z nim związane. Zachowała się przede wszystkim klisza z filmem, na której można zobaczyć ich wspólne, radosne chwile, którymi cieszyli się tuż przed tragicznymi wydarzeniami. Danuta Sławińska nigdy nie dowiedziała się, jak zginął jej ukochany i gdzie został pochowany. Film podejmuje również problem tego, jak ukazywano postać Jastera już po wojnie, kiedy to pojawiały się książki, w których przedstawiano go jako zdrajcę. Spotykało się to z głosami oburzenia. Takim oskarżeniom sprzeciwił się m.in. współuciekinier Jastera z obozu Auschwitz, Kazimierz Piechowski. Niestety nie udało się odnaleźć wojennych dokumentów procesowych, które mogłyby pośmiertnie oczyścić Jastera z zarzutów i przywrócić mu dobre imię. Z tego powodu próbę jego rehabilitacji podjęli twórcy filmu.
Film został wyprodukowany w 2014 roku. Twórcami scenariusza i reżyserami są Małgorzata Walczak i Marek Tomasz Pawłowski. Czas trwania filmu: 59 minut. Serdecznie zapraszamy.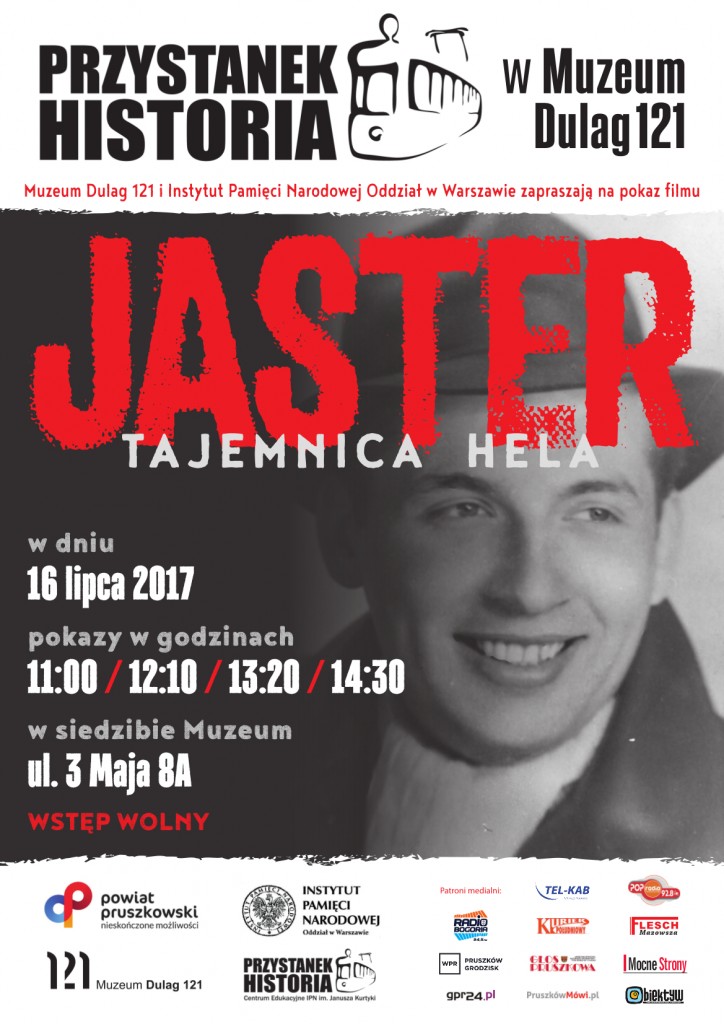 Przystanek Historia zawita do Pruszkowa – pokazy filmu w Muzeum Dulag 121

http://www.pruszkowmowi.pl/2017/07/przystanek-historia-zawita-do-pruszkowa-pokazy-filmu-w-muzeum-dulag-121/

http://www.pruszkowmowi.pl/wp-content/uploads/2017/07/pokaz-filmowy-jaster-724x1024.jpg

http://www.pruszkowmowi.pl/wp-content/uploads/2017/07/pokaz-filmowy-jaster-300x300.jpg

Aktualności

Muzeum Dulag121

16 lipca Muzeum Dulag 121 i warszawski oddział Instytutu Pamięci Narodowej zapraszają na pierwsze w Pruszkowie spotkanie z cyklu "Przystanek Historia w Muzeum Dulag 121". W ramach spotkania w Muzeum Dulag 121 (ul. 3 Maja 8A, Pruszków) w godz. 11.00, 12.10, 13.20 oraz 14.30 odbędą się bezpłatne pokazy filmu...

<p style="text-align: justify;"><strong>16 lipca Muzeum Dulag 121 i warszawski oddział Instytutu Pamięci Narodowej zapraszają na pierwsze w Pruszkowie spotkanie z cyklu "Przystanek Historia w Muzeum Dulag 121". W ramach spotkania w Muzeum Dulag 121 (ul. 3 Maja 8A, Pruszków) w godz. 11.00, 12.10, 13.20 oraz 14.30 odbędą się bezpłatne pokazy filmu "Jaster. Tajemnica Hela". Dokument przedstawia historię żołnierza Armii Krajowej, którego skomplikowane i tragiczne losy wojenne do dziś stanowią niewyjaśnioną do końca zagadkę.</strong></p> <p style="text-align: justify;">"Jaster. Tajemnica Hela" to film dokumentalny opowiadający historię żołnierza Armii Krajowej, Stanisława Jastera, <em>ps. Hel</em>, który na skutek nieszczęśliwego, i nie do końca wyjaśnionego splotu okoliczności, latem 1943 roku, został posądzony przez swoich towarzyszy broni o kolaborację z Niemcami. Już w lipcu tego samego roku Jaster został  stracony bez przeprowadzenia rzetelnej sprawy sądowej. Jego narzeczona Danuta Leśniewska (później Sławińska), pełniąca w 1944-1945  funkcję sanitariuszki i tłumaczki w obozie Dulag 121 w Pruszkowie, zrozpaczona po śmierci Jastera, przechowywała przez całe swoje życie pamiątki z nim związane. Zachowała się przede wszystkim klisza z filmem, na której można zobaczyć ich wspólne, radosne chwile, którymi cieszyli się tuż przed tragicznymi wydarzeniami. Danuta Sławińska nigdy nie dowiedziała się, jak zginął jej ukochany i gdzie został pochowany. Film podejmuje również problem tego, jak ukazywano postać Jastera już po wojnie, kiedy to pojawiały się książki, w których przedstawiano go jako zdrajcę. Spotykało się to z głosami oburzenia. Takim oskarżeniom sprzeciwił się m.in. współuciekinier Jastera z obozu Auschwitz, Kazimierz Piechowski. Niestety nie udało się odnaleźć wojennych dokumentów procesowych, które mogłyby pośmiertnie oczyścić Jastera z zarzutów i przywrócić mu dobre imię. Z tego powodu próbę jego rehabilitacji podjęli twórcy filmu.</p> <p style="text-align: justify;">Film został wyprodukowany w 2014 roku. Twórcami scenariusza i reżyserami są Małgorzata Walczak i Marek Tomasz Pawłowski. Czas trwania filmu: 59 minut. Serdecznie zapraszamy.</p> <a href="http://www.pruszkowmowi.pl/wp-content/uploads/2017/07/pokaz-filmowy-jaster.jpg"><img class="aligncenter size-large wp-image-8079" src="http://www.pruszkowmowi.pl/wp-content/uploads/2017/07/pokaz-filmowy-jaster-724x1024.jpg" alt="pokaz filmowy jaster" width="724" height="1024" /></a>

dulag@dulag121.pl

Author

Pruszków Mówi