Cykl spacerów "Niedzielne wyprawy szlakiem powstańczej Warszawy"
Historia obozu Dulag 121 związana jest nierozłącznie z historią Powstania Warszawskiego. Zwykło się mówić, że między 7 sierpnia a końcem października 1944 r. "przez obóz przejściowy w Pruszkowie przeszła cała Warszawa" i jest w tym dużo prawdy, ponieważ ludność cywilna wypędzona z walczącego miasta pędzona była lub wieziona właśnie do obozu Durchgangslager 121, a z niego, po brutalnych i bezwzględnych segregacjach do obozów koncentracyjnych, obozów pracy przymusowej na terenie Rzeszy i do Generalnego Gubernatorstwa na tułaczkę. Misją Muzeum Dulag 121 jest upamiętnianie losów wypędzonych warszawiaków. Zdajemy sobie sprawę, że ich tragiczna historia rozpoczęła się już w walczącej Warszawie, dlatego też każdego roku Muzeum Dulag 121 organizuje spacery po stolicy poświęcone Powstaniu Warszawskiemu. W sierpniu i wrześniu zapraszamy do wzięcia udziału w trzech wydarzeniach z cyklu "Niedzielne wyprawy szlakiem powstańczej Warszawy". Odwiedzimy Wolę, Stare Miasto oraz Śródmieście Południowe. Spacery prowadził będzie Pan Karol Karasiewicz przewodnik Muzeum Powstania Warszawskiego Serdecznie zapraszamy. Udział we wszystkich spacerach jest oczywiście  bezpłatny.
Spacer 1. Wola: "Zośka" i "Magda-Pudel", Pluton pancerny batalionu "Zośka"
13 VIII 2017, godz. 16:00. Miejsce zbiórki: Róg ulic Żytniej i Karolkowej,
Trasa: Żytnia, Karolkowa, Mireckiego, Okopowa, Anielewicza, Okopowa Spokojna Stawki. Czas przejścia: ok. 2 h
Spacer poświęcony będzie pierwszym dniom walk powstańczych w okolicach cmentarzy wolskich (katolickiego, ewangelickiego i żydowskiego). 1 sierpnia o godz. 17:00 to tam – w rejonie ulic Obozowej i Towarowej zebrał się Batalion "Zośka" wraz z całym Zgrupowaniem "Radosław". Już 2 sierpnia powstańcom udało się zdobyć dwa niemieckie czołgi typu Panther i sformować pluton pancerny Batalionu Zośka, którego dowódcą został kapitan Wacław Micuta "Wacek". Do 11 sierpnia czołgi plutonu wspierać będą walki Zgrupowania Radosław w tym rejonie: m.in. obronę w rejonie cmentarzy ewangelickich przy ul. Obozowej, obronę Twierdzy Św. Kingi oraz zdobycie obozu koncentracyjnego "Gęsiówka". Po 11 sierpnia żołnierze Zgrupowania Radosław pod dowództwem płk. Jana Mazurkiewicza wycofali się na Stare Miasto.
Spacer 2. Południowe Reduty Starego Miasta: poeci na barykadach. Baczyński, Gajcy, Stroiński"
20 VIII 2017, godz. 16:00. Miejsce zbiórki: Plac Teatralny, naprzeciw Pałacu Blanka
Trasa: Plac Teatralny, Senatorska, Bielańska, Plac Bankowy, Długa. Czas przejścia: ok. 2-3h
 Spacer poświęcony będzie walkom powstańczym w sierpniu 1944 roku w obronie południowej rubieży Starego Miasta, w oparciu o tzw. reduty: Miodowa–Senatorska, Ratusz, Kanoniczki, Bank Polski, Matki Boskiej i Pasaż Simonsa. To tam na powstańczych barykadach walczyli i ginęli młodzi poeci okresu okupacji: Krzysztof Kamil Baczyński (zginął 4 sierpnia w Pałacu Blanka) oraz poeci czasopisma konspiracyjnego "Sztuka i Naród" i "Konfederacji Narodu": Tadeusz Gajcy i Zdzisław Stroiński (zginęli 16 sierpnia w rejonie Pałacu Mostowskich i Arsenału). Poznamy także historię walk kompanii "Rudy" z Batalionu Zośka – jedynego oddziału, któremu przez Ogród Saski udało się przebić do Śródmieścia. W nocy z 30 na 31 sierpnia podjęto nieudaną próbę przebicia się do Śródmieścia. Atak miał być poprzedzony desantem przeprowadzonym kanałami na plac Bankowy, na tyły wojsk niemieckich. Karol Karasiewicz opowie także o walkach batalionu "Gozdawa–Czarnecki", NOW-u "Gustaw", "Chrobry I" pod dowództwem mjr. Gustawa Bilewicza "Sosny", Oddziału "Barry" pod dowództwem mjr. Włodzimierza Kozakiewicz, KB "Nałęcz", oddziałów Zgrupowania "Radosław", oddziałów NSZ i innych w rejonie Placu Teatralnego, Senatorskiej, Bielańskiej, Plac Bankowy w obronie południowej rubieży Starego Miasta. Miejsca walk: Pałac Blanka, Ratusz, Reduta Bankowa, Reduta Matki Boskiej, Arsenał i Pasaż Simonsa, Pałac Mostowskich.
Spacer 3. Śródmieście Południowe: Głuchoniemi i niemiecki generał w powstańczych szeregach
3 IX 2017, godz. 16:00. Miejsce zbiórki: Kamienica pod Gigantami (Al. Ujazdowskie 24)
Trasa: Plac Trzech Krzyży, Al. Ujazdowskie, Prusa, Frascatti, Wiejska, Hoża, Wilcza. Czas przejścia: ok. 2-3 h
Ostatni, trzeci spacer poświęcony będzie trwającym przez całe Powstanie walkom w Śródmieściu Południowym w okolicach Placu Trzech Krzyży. Rejon ulic Wiejskiej, Prusa i Frascatti był wówczas niemiecką dzielnicą, a w budynkach sejmowych stacjonowały znaczne niemieckie siły. Polacy starali się obronić przede wszystkim Szpital Świętego Łazarza i przejścia ze Śródmieścia na Czerniaków oraz odpierać ataki Niemców w okolicach Muzeum Narodowego. Walczyły tam m.in. kompanie Batalionu "Miłosz" (m.in. kompanii Kazimierza Leskiego "Bradla", kuriera Polskiego Państwa Podziemnego wypełniającego misje w przebraniu niemieckiego generała), plutonu Głuchoniemych z Instytutu Oftalmologicznego, a począwszy od września 1944 r., po wycofaniu ze Starego Miasta, plutonu porucznika Kazimierza Jackowskiego "Torpedy" z Batalionu "Miotła" z Ursusa. W częściach dzielnicy zajętych przez powstańców powstawały szpitale dla rannych, np. szpital powstańczy przy Hożej 13 czy przy Mokotowskiej 55. Plac Trzech Krzyży wykorzystywany był także jako miejsce alianckich zrzutów dla powstańców.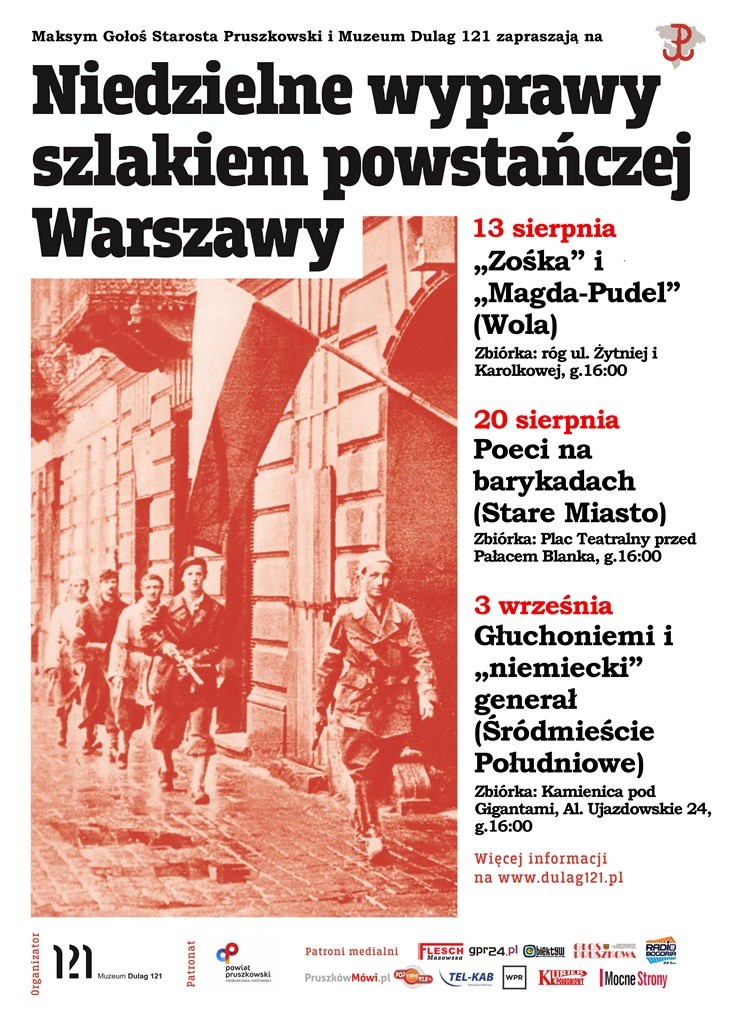 Cykl spacerów "Niedzielne wyprawy szlakiem powstańczej Warszawy"

http://www.pruszkowmowi.pl/2017/07/cykl-spacerow-niedzielne-wyprawy-szlakiem-powstanczej-warszawy/

http://www.pruszkowmowi.pl/wp-content/uploads/2017/07/Spacery-szlakiem-2017-Plakat-Kopia-732x1024.jpg

http://www.pruszkowmowi.pl/wp-content/uploads/2017/07/Spacery-szlakiem-2017-Plakat-Kopia-300x300.jpg

Aktualności

Historia

Muzeum Dulag121

Wydarzenia

spacer historyczny

Historia obozu Dulag 121 związana jest nierozłącznie z historią Powstania Warszawskiego. Zwykło się mówić, że między 7 sierpnia a końcem października 1944 r. "przez obóz przejściowy w Pruszkowie przeszła cała Warszawa" i jest w tym dużo prawdy, ponieważ ludność cywilna wypędzona z walczącego miasta pędzona była lub wieziona właśnie...

Historia obozu Dulag 121 związana jest nierozłącznie z historią Powstania Warszawskiego. Zwykło się mówić, że między 7 sierpnia a końcem października 1944 r. "przez obóz przejściowy w Pruszkowie przeszła cała Warszawa" i jest w tym dużo prawdy, ponieważ ludność cywilna wypędzona z walczącego miasta pędzona była lub wieziona właśnie do obozu Durchgangslager 121, a z niego, po brutalnych i bezwzględnych segregacjach do obozów koncentracyjnych, obozów pracy przymusowej na terenie Rzeszy i do Generalnego Gubernatorstwa na tułaczkę. Misją Muzeum Dulag 121 jest upamiętnianie losów wypędzonych warszawiaków. Zdajemy sobie sprawę, że ich tragiczna historia rozpoczęła się już w walczącej Warszawie, dlatego też każdego roku Muzeum Dulag 121 organizuje spacery po stolicy poświęcone Powstaniu Warszawskiemu. W sierpniu i wrześniu zapraszamy do wzięcia udziału w trzech wydarzeniach z cyklu <strong>"Niedzielne wyprawy szlakiem powstańczej Warszawy".</strong> Odwiedzimy Wolę, Stare Miasto oraz Śródmieście Południowe. Spacery prowadził będzie Pan Karol Karasiewicz przewodnik Muzeum Powstania Warszawskiego Serdecznie zapraszamy. Udział we wszystkich spacerach jest oczywiście  bezpłatny. <strong> </strong> <strong>Spacer 1. Wola: "Zośka" i "Magda-Pudel", Pluton pancerny batalionu "Zośka"</strong> <strong>13 VIII 2017, godz. 16:00. Miejsce zbiórki: Róg ulic Żytniej i Karolkowej,</strong> <strong>Trasa: Żytnia, Karolkowa, Mireckiego, Okopowa, Anielewicza, Okopowa Spokojna Stawki. Czas przejścia: ok. 2 h</strong> Spacer poświęcony będzie pierwszym dniom walk powstańczych w okolicach cmentarzy wolskich (katolickiego, ewangelickiego i żydowskiego). 1 sierpnia o godz. 17:00 to tam - w rejonie ulic Obozowej i Towarowej zebrał się Batalion "Zośka" wraz z całym Zgrupowaniem "Radosław". Już 2 sierpnia powstańcom udało się zdobyć dwa niemieckie czołgi typu Panther i sformować pluton pancerny Batalionu Zośka, którego dowódcą został kapitan Wacław Micuta "Wacek". Do 11 sierpnia czołgi plutonu wspierać będą walki Zgrupowania Radosław w tym rejonie: m.in. obronę w rejonie cmentarzy ewangelickich przy ul. Obozowej, obronę Twierdzy Św. Kingi oraz zdobycie obozu koncentracyjnego "Gęsiówka". Po 11 sierpnia żołnierze Zgrupowania Radosław pod dowództwem płk. Jana Mazurkiewicza wycofali się na Stare Miasto. <strong>Spacer 2. Południowe Reduty Starego Miasta: poeci na barykadach. Baczyński, Gajcy, Stroiński"</strong> <strong>20 VIII 2017, godz. 16:00. Miejsce zbiórki: Plac Teatralny, naprzeciw Pałacu Blanka</strong> <strong>Trasa: </strong>Plac Teatralny, Senatorska, Bielańska, Plac Bankowy, Długa<strong>. Czas przejścia: ok. 2-3h</strong> <strong> </strong>Spacer poświęcony będzie walkom powstańczym w sierpniu 1944 roku w obronie południowej rubieży Starego Miasta, w oparciu o tzw. reduty: Miodowa–Senatorska, Ratusz, Kanoniczki, Bank Polski, Matki Boskiej i Pasaż Simonsa. To tam na powstańczych barykadach walczyli i ginęli młodzi poeci okresu okupacji: Krzysztof Kamil Baczyński (zginął 4 sierpnia w Pałacu Blanka) oraz poeci czasopisma konspiracyjnego "Sztuka i Naród" i "Konfederacji Narodu": Tadeusz Gajcy i Zdzisław Stroiński (zginęli 16 sierpnia w rejonie Pałacu Mostowskich i Arsenału). Poznamy także historię walk kompanii "Rudy" z Batalionu Zośka - jedynego oddziału, któremu przez Ogród Saski udało się przebić do Śródmieścia. W nocy z 30 na 31 sierpnia podjęto nieudaną próbę przebicia się do Śródmieścia. Atak miał być poprzedzony desantem przeprowadzonym kanałami na plac Bankowy, na tyły wojsk niemieckich. Karol Karasiewicz opowie także o walkach batalionu "Gozdawa–Czarnecki", NOW-u "Gustaw", "Chrobry I" pod dowództwem mjr. Gustawa Bilewicza "Sosny", Oddziału "Barry" pod dowództwem mjr. Włodzimierza Kozakiewicz, KB "Nałęcz", oddziałów Zgrupowania "Radosław", oddziałów NSZ i innych w rejonie Placu Teatralnego, Senatorskiej, Bielańskiej, Plac Bankowy w obronie południowej rubieży Starego Miasta. Miejsca walk: Pałac Blanka, Ratusz, Reduta Bankowa, Reduta Matki Boskiej, Arsenał i Pasaż Simonsa, Pałac Mostowskich. <strong>Spacer 3. Śródmieście Południowe: Głuchoniemi i niemiecki generał w powstańczych szeregach </strong> <strong>3 IX 2017, godz. 16:00. Miejsce zbiórki: Kamienica pod Gigantami (Al. Ujazdowskie 24)</strong> <strong>Trasa: </strong>Plac Trzech Krzyży, Al. Ujazdowskie, Prusa, Frascatti, Wiejska, Hoża, Wilcza<strong>. Czas przejścia: ok. 2-3 h</strong> Ostatni, trzeci spacer poświęcony będzie trwającym przez całe Powstanie walkom w Śródmieściu Południowym w okolicach Placu Trzech Krzyży. Rejon ulic Wiejskiej, Prusa i Frascatti był wówczas niemiecką dzielnicą, a w budynkach sejmowych stacjonowały znaczne niemieckie siły. Polacy starali się obronić przede wszystkim Szpital Świętego Łazarza i przejścia ze Śródmieścia na Czerniaków oraz odpierać ataki Niemców w okolicach Muzeum Narodowego. Walczyły tam m.in. kompanie Batalionu "Miłosz" (m.in. kompanii Kazimierza Leskiego "Bradla", kuriera Polskiego Państwa Podziemnego wypełniającego misje w przebraniu niemieckiego generała), plutonu Głuchoniemych z Instytutu Oftalmologicznego, a począwszy od września 1944 r., po wycofaniu ze Starego Miasta, plutonu porucznika Kazimierza Jackowskiego "Torpedy" z Batalionu "Miotła" z Ursusa. W częściach dzielnicy zajętych przez powstańców powstawały szpitale dla rannych, np. szpital powstańczy przy Hożej 13 czy przy Mokotowskiej 55. Plac Trzech Krzyży wykorzystywany był także jako miejsce alianckich zrzutów dla powstańców.<a href="http://www.pruszkowmowi.pl/wp-content/uploads/2017/07/Spacery-szlakiem-2017-Plakat-Kopia.jpg"><img class="aligncenter size-large wp-image-8090" src="http://www.pruszkowmowi.pl/wp-content/uploads/2017/07/Spacery-szlakiem-2017-Plakat-Kopia-732x1024.jpg" alt="Spacery szlakiem 2017 - Plakat - Kopia" width="732" height="1024" /></a>

dulag@dulag121.pl

Author

Pruszków Mówi