"Kolędowanie Nadziei 2016." Kreatywne warsztaty rodzinne w niezwykłej atmosferze Świąt Bożego Narodzenia
Starosta Pruszkowski Maksym Gołoś i Muzeum Dulag 121 serdecznie zapraszają wszystkie Rodziny z Dziećmi z Powiatu Pruszkowskiego na wyjątkowe bożonarodzeniowe spotkanie ,,Kolędowanie Nadziei 2016", które odbędzie się 28 grudnia 2016 r. W programie wydarzenia znajdą się m.in.: opowieści z różnych stron świata, kreatywne warsztaty rodzinne, tworzenie teatrzyków lalkowych oraz zabawy prowadzone przez animatorów z Muzeum Bajek, Baśni i Opowieści.
Święta Bożego Narodzenia to czas wspólnego kolędowania i rodzinnych spotkań. To dni przepełnione radością, nadzieją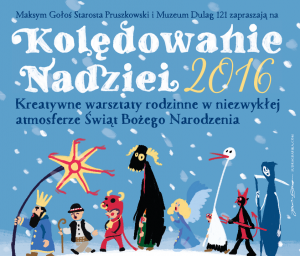 i życzliwością, którą chcemy się dzielić z innymi. Na ten szczególny świąteczny moment roku przygotowaliśmy dla Dzieci, Rodziców i Dziadków spotkanie pt.: "Kolędowanie nadziei", podczas którego doskonały bajarz, dyrektor Muzeum Bajek, Baśni i Opowieści Michał Malinowski opowie o zwyczajach bożonarodzeniowych, a także przedstawi świąteczne bajki i legendy z różnych stron świata.
Zachęceni zeszłorocznym sukcesem "Kolędowania Nadziei", pragniemy, aby spotkanie łączyło elementy tradycyjnych, kolędniczych opowieści z kreatywnymi warsztatami dla całej rodziny. Obok opowieści, wspólnego śpiewania kolęd i pastorałek, centralnym punktem programu będą warsztaty teatrzyków lalkowych i teatrzyków cieni, pobudzające wyobraźnię i kreatywność zarówno dzieci jak i dorosłych. Podczas zajęć można będzie nauczyć się, jak ciekawie zilustrować i opowiedzieć bajkę z użyciem technik scenicznych oraz jak stworzyć samodzielnie lalki do przedstawienia. Mini teatrzyki, które powstaną na warsztatach, będą świątecznym prezentem dla uczestników "Kolędowania Nadziei".
Doskonałą zabawę dla dzieci zapewnią animatorzy z Muzeum Bajek, Baśni i Opowieści. Wśród atrakcji zaplanowano: tworzenie kostiumów kolędników, bajkostwory, zagadki i animacje, a także budowanie z klocków zamków Trzech Króli. A wszystko to w rodzinnej atmosferze Świąt Bożego Narodzenia i przy dźwiękach kolęd oraz słodkim poczęstunku.
Na spotkanie "Kolędowanie Nadziei" zapraszamy 28 grudnia (w środę) o godzinie 17:00 do restauracji "Ucieranie Treści" (Pruszków, ul. Obrońców Pokoju 8). Wstęp jest oczywiście wolny. Ze względu na ograniczoną liczbę miejsc prosimy o mailowe lub telefoniczne potwierdzenie udziału do 27 grudnia 2016 r.: e-mail: dulag@dulag121.pl, tel. 22 758 86 63.
Gwarantujemy dobrą zabawę i świąteczne przeżycia, które pozostawią wszystkim miłe i niezapomniane wspomnienia. Serdecznie zapraszamy i oczekujemy.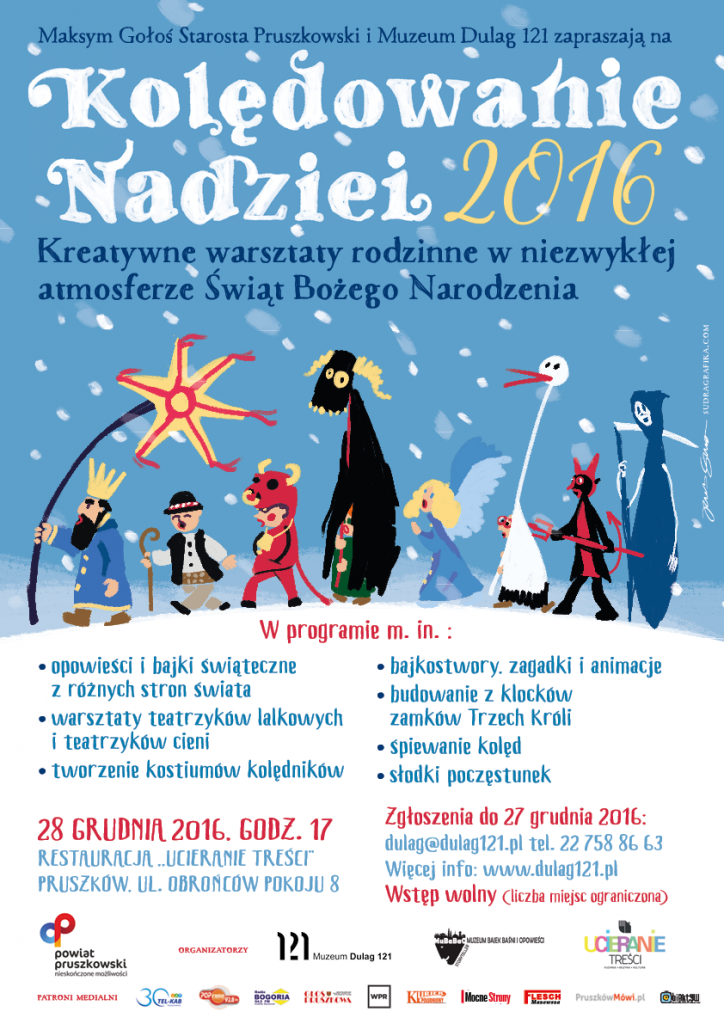 "Kolędowanie Nadziei 2016." Kreatywne warsztaty rodzinne w niezwykłej atmosferze Świąt Bożego Narodzenia

http://www.pruszkowmowi.pl/2016/12/koledowanie-nadziei-2016-kreatywne-warsztaty-rodzinne-w-niezwyklej-atmosferze-swiat-bozego-narodzenia/

http://www.pruszkowmowi.pl/wp-content/uploads/2016/12/dodatkowa-grafika.png

http://www.pruszkowmowi.pl/wp-content/uploads/2016/12/dodatkowa-grafika-300x300.png

Muzeum Dulag121

Wydarzenia

Muzeum Dulag 121,wydarzenie

Starosta Pruszkowski Maksym Gołoś i Muzeum Dulag 121 serdecznie zapraszają wszystkie Rodziny z Dziećmi z Powiatu Pruszkowskiego na wyjątkowe bożonarodzeniowe spotkanie ,,Kolędowanie Nadziei 2016", które odbędzie się 28 grudnia 2016 r. W programie wydarzenia znajdą się m.in.: opowieści z różnych stron świata, kreatywne warsztaty rodzinne, tworzenie teatrzyków lalkowych oraz...

<p align="JUSTIFY"><span style="font-family: Calibri, serif;"><span style="font-size: medium;"><i>Starosta Pruszkowski Maksym Gołoś i Muzeum Dulag 121 serdecznie zapraszają wszystkie Rodziny z Dziećmi z Powiatu Pruszkowskiego na wyjątkowe bożonarodzeniowe spotkanie ,,Kolędowanie Nadziei 2016", które odbędzie się<strong> 28 grudnia 2016 r.</strong> W programie wydarzenia znajdą się m.in.: opowieści z różnych stron świata, kreatywne warsztaty rodzinne, tworzenie teatrzyków lalkowych oraz zabawy prowadzone przez animatorów z Muzeum Bajek, Baśni i Opowieści.</i></span></span></p> <p align="JUSTIFY"><span style="font-family: Calibri, serif;"><span style="font-size: medium;">Święta Bożego Narodzenia to czas </span></span><span style="font-size: medium;">wspólnego kolędowania i rodzinnych spotkań. To dni przepełnione radością, nadzieją<a href="http://www.pruszkowmowi.pl/wp-content/uploads/2016/12/dodatkowa-grafika.png"><img class="alignright wp-image-7889 size-medium" src="http://www.pruszkowmowi.pl/wp-content/uploads/2016/12/dodatkowa-grafika-300x256.png" alt="dodatkowa grafika" width="300" height="256" /></a> i życzliwością, którą chcemy się dzielić z innymi. Na ten szczególny świąteczny moment roku przygotowaliśmy dla Dzieci, Rodziców i Dziadków spotkanie pt.:</span><span style="font-family: Calibri, serif;"><span style="font-size: medium;"> "Kolędowanie nadziei", podczas którego doskonały bajarz, dyrektor Muzeum Bajek, Baśni i Opowieści Michał Malinowski opowie o zwyczajach bożonarodzeniowych, a także przedstawi świąteczne bajki i legendy z różnych stron świata.</span></span></p> <p align="JUSTIFY"><span style="font-size: medium;">Zachęceni zeszłorocznym sukcesem "Kolędowania Nadziei", pragniemy, aby spotkanie łączyło elementy tradycyjnych, kolędniczych opowieści z kreatywnymi warsztatami dla całej rodziny. Obok opowieści, wspólnego śpiewania kolęd i pastorałek, centralnym punktem programu będą warsztaty teatrzyków lalkowych i teatrzyków cieni, pobudzające wyobraźnię i kreatywność zarówno dzieci jak i dorosłych. Podczas zajęć można będzie nauczyć się, jak ciekawie zilustrować i opowiedzieć bajkę z użyciem technik scenicznych oraz jak stworzyć samodzielnie lalki do przedstawienia. Mini teatrzyki, które powstaną na warsztatach, będą świątecznym prezentem dla uczestników "Kolędowania Nadziei". </span></p> <p align="JUSTIFY"><span style="font-size: medium;">Doskonałą zabawę dla dzieci zapewnią </span><span style="font-family: Calibri, serif;"><span style="font-size: medium;">animatorzy z Muzeum Bajek, Baśni i Opowieści. Wśród atrakcji zaplanowano: </span></span><span style="font-size: medium;">tworzenie kostiumów kolędników, bajkostwory, zagadki i animacje, a także budowanie z klocków zamków Trzech Króli. A wszystko to w rodzinnej atmosferze Świąt Bożego Narodzenia i przy dźwiękach kolęd oraz słodkim poczęstunku. </span></p> <p align="JUSTIFY"><span style="font-size: medium;">Na spotkanie "Kolędowanie Nadziei" zapraszamy <strong>28 grudnia (w środę) o godzinie 17:00 do restauracji "Ucieranie Treści"</strong> (Pruszków, ul. Obrońców Pokoju 8). </span><span style="font-family: Calibri, serif;"><span style="font-size: medium;">Wstęp jest oczywiście wolny. <strong>Ze względu na ograniczoną liczbę miejsc prosimy o mailowe lub telefoniczne potwierdzenie udziału do 27 grudnia 2016 r.: e-mail: dulag@dulag121.pl, tel. 22 758 86 63.</strong></span></span></p> <p align="JUSTIFY"><span style="font-size: medium;">Gwarantujemy dobrą zabawę i świąteczne przeżycia, które pozostawią wszystkim miłe i niezapomniane wspomnienia</span>. Serdecznie zapraszamy i oczekujemy.</p> <p align="JUSTIFY"><a href="http://www.pruszkowmowi.pl/wp-content/uploads/2016/12/koledowanie-2016-plakat_www1.png"><img class="aligncenter size-large wp-image-7888" src="http://www.pruszkowmowi.pl/wp-content/uploads/2016/12/koledowanie-2016-plakat_www1-724x1024.png" alt="koledowanie-2016-plakat_www" width="724" height="1024" /></a></p>

dulag@dulag121.pl

Author

Pruszków Mówi