Z deskorolką za pan brat
Pruszków ogarnęła pozytywna moda na sport. Na ulicach nieproporcjonalnie do ilości ścieżek rowerowych przybywa rowerzystów, biegacze w parkach stali się codziennością, a w tym sezonie nawet hulajnogi wróciły do łask. Wielu z nas uświadomiło sobie, że życie bez głaskania pilota od telewizora czy przechodzenia kolejnych etapów w grze wideo jest możliwe. I bardzo dobrze!
Jako że upodobałem sobie promowanie ciekawych miejsc, osób oraz idei związanych z Pruszkowem, nie mogłem powstrzymać się od przeprowadzenia spontanicznego wywiadu z ciekawą personą. Podczas II edycji "Śniadania w parku" na małej niebieskiej deskorolce przemknął obok mnie chłopak w kolorowych okularach. Żeby było ciekawiej, deskorolkowiec rozpoznał mnie i zatrzymał się. Po wymianie kilku zdań i przypomnieniu faktów z przeszłości, ja także wiedziałem już kim jest ów człowiek. To był Tomir, "innowacyjny fizjoterapeuta", który równo rok temu w ramach "Bla bla car" podwiózł mnie do Krakowa.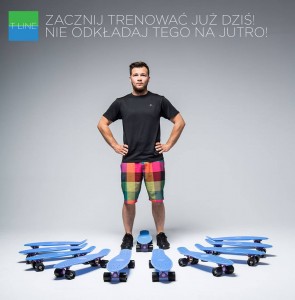 Edgar Czop: Ciekawe masz imię, tak samo dziwne jak moje, pytałeś się może rodziców "dlaczego?" ?
Tomir Nowak: Ojciec nie chciał mi dawać imienia, które byłoby takie samo, jak każde inne. Nie chciał, żebym był kolejnym Krzyśkiem, Pawłem, czy Tomkiem, więc znalazł w kalendarzu imię Tomir.
EC: To jak połączenie Tomka z Irkiem. Jednak do rzeczy, bo nie o imiona się tu przecież rozchodzi. Po co ci te deskorolki przy wykonywaniu ćwiczeń?
TN: Cała historia zaczęła się od tego, że kupiłem sobie "fiszkę" [patrz: zdjęcia w artykule – przyp. E.C.], deskorolkę w kształcie rybki, po to, aby samemu sobie na niej pojeździć. Na początku o ćwiczeniu na niej nie miałem pojęcia. To był czas, kiedy pracowałem w przychodni rehabilitacyjnej i co jakiś czas dawałem swoim pacjentom właśnie takie ćwiczenia, w których zaangażowałem deskorolkę – dawała ona opór podczas ćwiczenia. Prowadząc dwutygodniowy turnus rehabilitacyjny miałem wrażenie, że pacjenci mnie nienawidzą, bo po pierwszym, drugim i trzecim dniu wszystko ich bolało od moich treningów i byli sceptyczni co do całego systemu. Jednak, gdy minęły dwa tygodnie zmienili oni zdanie i stwierdzili, że pierwszy raz doświadczyli tak znaczącej poprawy podczas rehabilitacji.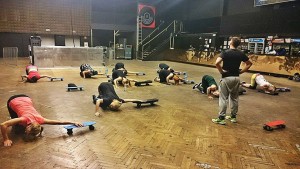 EC: Mogę potwierdzić twoją wersję, bo gdy przez kilkanaście minut ćwiczyłem z tobą w parku Kościuszki myślałem, że będzie po mnie…
TN: Wtedy było bardzo ciepło, a ty ćwiczyłeś w długich spodniach, więc nie ma się co dziwić. Powracając do mojej historii, po jakimś czasie odszedłem z pracy i pomyślałem sobie, że jeżeli wymyśliłem jedno czy dwa ćwiczenia z deską, to dlaczego nie wymyślić ich czterdzieści, albo pięćdziesiąt? Zrobiłem więc konspekt treningów – różne warianty dla różnych grup – i w zależności od tego z kim ćwiczyłem, zwiększałem lub zmniejszałem poziom trudności konkretnego ćwiczenia.
EC: Fizjoterapeuci i trenerzy fiteness wykorzystali już do ćwiczeń piłki, gumy, równoważnie, czy woreczki z piaskiem, myślisz, że "fiszki" wprowadzą nową jakość do tej branży? Pytam, bo jesteś pierwszą osobą, która prowadzi ćwiczenia w taki sposób.
TN: Zwykłe ćwiczenia nie angażują tak wielu grup mięśni, jak ćwiczenia podporowe, które nie dość, że powodują utrzymanie ciała w jednym miejscu, to też np. przy wykroku na deskorolce, przy wykonaniu płynnego ruchu w jedną i drugą stronę, nie ćwiczy się tylko ud czy łydek, ale całą nogę. To ogromny ruch złożony. Taki trening działa bardzo dobrze koordynacyjnie, wpływa na równowagę, ćwiczymy równomiernie na jedną i drugą połowę ciała, tyle samo powtórzeń o podobnej szybkości, aby scentralizować napięcie w obu kończynach oraz kręgosłupie. Co do samej techniki, owszem, sam wyszedłem z tym pomysłem, mam cały plan w głowie od jakiegoś miesiąca i sukcesywnie idę do celu, aby promować taką działalność.
EC: Zapytam zatem teraz z perspektywy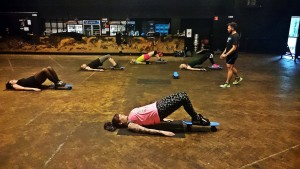 biznesowej – czy masz "branie" na swoje deskorolkowe usługi?
TN: Muszę powiedzieć, że z tym jest dość ciężko. Jak z każdą nowinką w Polsce, także z "fiszkami" jest trudno dotrzeć do ludzi i przekonać ich. Weźmy na przykład nordic walking, jest on u nas ok 10 lat i ma się tak sobie, gdzie indziej na świecie funkcjonuje on od 20 lat i działa dużo lepiej. Wracając do "fiszek", oczywiście chciałbym w jakimś stopniu na tym zarabiać, bo na razie promocja generuje koszty – fanpage na Facebooku i strona internetowa nie zrobią się same.
EC: Jak to we własnym biznesie.
TN: Dokładnie. Wkładam w to jednak całe serce i mam nadzieję, że kiedyś "to" do mnie wróci. Jak na razie mam dobre kontakty z grupą wrotkarek z Warszawy – Worst Warsaw Derby Team [widać jak ćwiczą na zdjęciach – przyp. E.C.]. Nawet moi znajomi byli co do tego sceptyczni, jednak mimo wszystko, na każdych prowadzonych zajęciach miałem od dwóch od pięciu osób, z którymi wykonywałem moje ćwiczenia.
EC: Zastanawiam się na co pomagają takie ćwiczenia z deską. Wyobraźmy sobie, przychodzi mężczyzna i mówi: "Panie Tomirze, po pierwsze świetne imię, po drugie strasznie boli mnie kręgosłup, w biodrze mnie strzyka, czy ta deska mi pomoże?".
TN: Chciałem tutaj troszkę sprostować. Bo raz, ćwiczenia są profilaktyczno-rehabilitacyjne, ale dwa, nie są dla osób chorych. Jeżeli masz krzywy kręgosłup, ale on cię nie boli, jest duża szansa, że jest on krzywy, bo…
EC: Nie jeżdżę na desce?
TN: Nie do końca. Dlatego masz krzywy kręgosłup, bo mas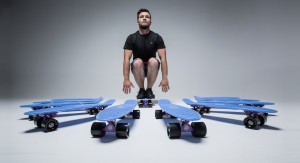 z nieprawidłowe napięcie mięśniowe przy samym kręgosłupie. Jeżeli jako fizjoterapeuta zamknę ten temat w jakieś ramy, to zaraz będę hejtowany przez wszystkich fizjoterapeutów, więc może tutaj poprzestanę. Powiem jednak o ćwiczeniu z "fiszką" na kręgosłup – tutaj ćwicząc obie strony równo, staramy się scentralizować napięcie po obu stronach kręgosłupa.
EC: I na koniec, jak zachęciłbyś do ćwiczenia z "fiszką" wszystkich sceptycznych?
TN: Trochę mnie zagiąłeś. Każdy, kto jest zamknięty na aktywność, jest także oporny do mobilizowania ku ćwiczeniu. Nie przekonam was tym, że te ćwiczenia są wydolnościowe, bo nie są –  to ćwiczenia statyczne, bardziej wyrównują one napięcie, niż uelastyczniają mięśnie. Powiem po swoim przykładzie, dopiero po szóstym poprowadzonym treningu przestałem mieć po nich zakwasy, czyli to coś znaczy! Jeżeli chcesz się wyrzeźbić – sam po sobie widzę duże zmiany – masz otwartą głowę na zmiany i chcesz się zmęczyć to jak najbardziej polecam!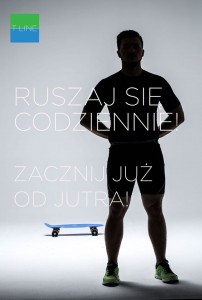 CHCESZ DOWIEDZIEĆ SIĘ WIĘCEJ?
Napisz  lub zadzwoń do Tomira >> kontakt@t-line.pl / 660166458
Wejdź na jego fanpage'a na Facebook'u >> T-line
A może fiszkę? >> www.fishskateboards.com
PS. Żeby nie było, że kłamałem z tym ćwiczeniem w parku: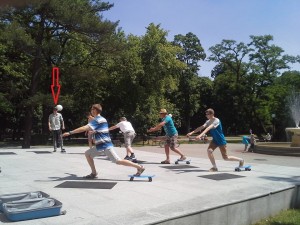 Z deskorolką za pan brat

http://www.pruszkowmowi.pl/2015/06/z-deskorolka-za-pan-brat/

Edgar Czop

ćwiczenia,deskorolka,fishboard,fitness,fizjoterapeuta,Pruszków ćwiczy,T-line,Tomir Nowak,uroda,Worst Warsaw Derby Team,zdrowie

Pruszków ogarnęła pozytywna moda na sport. Na ulicach nieproporcjonalnie do ilości ścieżek rowerowych przybywa rowerzystów, biegacze w parkach stali się codziennością, a w tym sezonie nawet hulajnogi wróciły do łask. Wielu z nas uświadomiło sobie, że życie bez głaskania pilota od telewizora czy przechodzenia kolejnych etapów w grze wideo...

<strong>Pruszków ogarnęła pozytywna moda na sport. Na ulicach nieproporcjonalnie do ilości ścieżek rowerowych przybywa rowerzystów, biegacze w parkach stali się codziennością, a w tym sezonie nawet hulajnogi wróciły do łask. Wielu z nas uświadomiło sobie, że życie bez głaskania pilota od telewizora czy przechodzenia kolejnych etapów w grze wideo jest możliwe. I bardzo dobrze!</strong> Jako że upodobałem sobie promowanie ciekawych miejsc, osób oraz idei związanych z Pruszkowem, nie mogłem powstrzymać się od przeprowadzenia spontanicznego wywiadu z ciekawą personą. Podczas II edycji <a href="http://forumpruszkow.pl/wszystkie/relacja-z-drugiego-sniadania-w-parku-pruszkow-2015/">"Śniadania w parku"</a> na małej niebieskiej deskorolce przemknął obok mnie chłopak w kolorowych okularach. Żeby było ciekawiej, deskorolkowiec rozpoznał mnie i zatrzymał się. Po wymianie kilku zdań i przypomnieniu faktów z przeszłości, ja także wiedziałem już kim jest ów człowiek. To był <strong>Tomir</strong>, "innowacyjny fizjoterapeuta", który równo rok temu w ramach <a href="https://www.blablacar.pl/">"Bla bla car"</a> podwiózł mnie do Krakowa. <a href="http://pruszkowmowi.pl/wp-content/uploads/2015/06/tomir.jpg"><img class=" aligncenter wp-image-6139" src="http://pruszkowmowi.pl/wp-content/uploads/2015/06/tomir-295x300.jpg" alt="T-Line" width="359" height="365" /></a> <strong>Edgar Czop: Ciekawe masz imię, tak samo dziwne jak moje, pytałeś się może rodziców "dlaczego?" ?</strong> <strong>Tomir Nowak: </strong>Ojciec nie chciał mi dawać imienia, które byłoby takie samo, jak każde inne. Nie chciał, żebym był kolejnym Krzyśkiem, Pawłem, czy Tomkiem, więc znalazł w kalendarzu imię Tomir. <strong>EC: To jak połączenie Tomka z Irkiem. Jednak do rzeczy, bo nie o imiona się tu przecież rozchodzi. Po co ci te deskorolki przy wykonywaniu ćwiczeń?</strong> <strong>TN: </strong>Cała historia zaczęła się od tego, że kupiłem sobie "fiszkę" [patrz: zdjęcia w artykule - przyp. E.C.], deskorolkę w kształcie rybki, po to, aby samemu sobie na niej pojeździć. Na początku o ćwiczeniu na niej nie miałem pojęcia. To był czas, kiedy pracowałem w przychodni rehabilitacyjnej i co jakiś czas dawałem swoim pacjentom właśnie takie ćwiczenia, w których zaangażowałem deskorolkę - dawała ona opór podczas ćwiczenia. Prowadząc dwutygodniowy turnus rehabilitacyjny miałem wrażenie, że pacjenci mnie nienawidzą, bo po pierwszym, drugim i trzecim dniu wszystko ich bolało od moich treningów i byli sceptyczni co do całego systemu. Jednak, gdy minęły dwa tygodnie zmienili oni zdanie i stwierdzili, że pierwszy raz doświadczyli tak znaczącej poprawy podczas rehabilitacji. <a href="http://pruszkowmowi.pl/wp-content/uploads/2015/06/mega-koko.jpg"><img class=" alignright wp-image-6140" src="http://pruszkowmowi.pl/wp-content/uploads/2015/06/mega-koko-300x169.jpg" alt="z rolkarkami" width="451" height="254" /></a> <strong>EC: Mogę potwierdzić twoją wersję, bo gdy przez kilkanaście minut ćwiczyłem z tobą w parku Kościuszki myślałem, że będzie po mnie...</strong> <b>TN:</b> Wtedy było bardzo ciepło, a ty ćwiczyłeś w długich spodniach, więc nie ma się co dziwić. Powracając do mojej historii, po jakimś czasie odszedłem z pracy i pomyślałem sobie, że jeżeli wymyśliłem jedno czy dwa ćwiczenia z deską, to dlaczego nie wymyślić ich czterdzieści, albo pięćdziesiąt? Zrobiłem więc konspekt treningów - różne warianty dla różnych grup - i w zależności od tego z kim ćwiczyłem, zwiększałem lub zmniejszałem poziom trudności konkretnego ćwiczenia. <strong>EC: Fizjoterapeuci i trenerzy fiteness wykorzystali już do ćwiczeń piłki, gumy, równoważnie, czy woreczki z piaskiem, myślisz, że "fiszki" wprowadzą nową jakość do tej branży? Pytam, bo jesteś pierwszą osobą, która prowadzi ćwiczenia w taki sposób.</strong> <strong>TN: </strong>Zwykłe ćwiczenia nie angażują tak wielu grup mięśni, jak ćwiczenia podporowe, które nie dość, że powodują utrzymanie ciała w jednym miejscu, to też np. przy wykroku na deskorolce, przy wykonaniu płynnego ruchu w jedną i drugą stronę, nie ćwiczy się tylko ud czy łydek, ale całą nogę. To ogromny ruch złożony. Taki trening działa bardzo dobrze koordynacyjnie, wpływa na równowagę, ćwiczymy równomiernie na jedną i drugą połowę ciała, tyle samo powtórzeń o podobnej szybkości, aby scentralizować napięcie w obu kończynach oraz kręgosłupie. Co do samej techniki, owszem, sam wyszedłem z tym pomysłem, mam cały plan w głowie od jakiegoś miesiąca i sukcesywnie idę do celu, aby promować taką działalność. <strong>EC: Zapytam zatem teraz z perspektywy <img class=" alignleft wp-image-6141" src="http://pruszkowmowi.pl/wp-content/uploads/2015/06/pako-300x169.jpg" alt="z rolkarkami II" width="448" height="252" />biznesowej - czy masz "branie" na swoje deskorolkowe usługi?</strong> <b>TN: </b>Muszę powiedzieć, że z tym jest dość ciężko. Jak z każdą nowinką w Polsce, także z "fiszkami" jest trudno dotrzeć do ludzi i przekonać ich. Weźmy na przykład n<a href="http://pruszkowmowi.pl/2014/03/nordic-walking-fakty-i-mity/">ordic walking</a>, jest on u nas ok 10 lat i ma się tak sobie, gdzie indziej na świecie funkcjonuje on od 20 lat i działa dużo lepiej. Wracając do "fiszek", oczywiście chciałbym w jakimś stopniu na tym zarabiać, bo na razie promocja generuje koszty - fanpage na Facebooku i strona internetowa nie zrobią się same. <strong>EC: Jak to we własnym biznesie.</strong> <strong>TN: </strong>Dokładnie. Wkładam w to jednak całe serce i mam nadzieję, że kiedyś "to" do mnie wróci. Jak na razie mam dobre kontakty z grupą wrotkarek z Warszawy - <a href="https://www.facebook.com/WorstWarsawDerbyTeam">Worst Warsaw Derby Team</a> [widać jak ćwiczą na zdjęciach - przyp. E.C.]. Nawet moi znajomi byli co do tego sceptyczni, jednak mimo wszystko, na każdych prowadzonych zajęciach miałem od dwóch od pięciu osób, z którymi wykonywałem moje ćwiczenia. <strong>EC: Zastanawiam się na co pomagają takie ćwiczenia z deską. Wyobraźmy sobie, przychodzi mężczyzna i mówi: "Panie Tomirze, po pierwsze świetne imię, po drugie strasznie boli mnie kręgosłup, w biodrze mnie strzyka, czy ta deska mi pomoże?".</strong> <strong>TN: </strong>Chciałem tutaj troszkę sprostować. Bo raz, ćwiczenia są profilaktyczno-rehabilitacyjne, ale dwa, nie są dla osób chorych. Jeżeli masz krzywy kręgosłup, ale on cię nie boli, jest duża szansa, że jest on krzywy, bo... <strong>EC: Nie jeżdżę na desce?</strong> <strong>TN: </strong>Nie do końca. Dlatego masz krzywy kręgosłup, bo mas<img class=" alignright wp-image-6142" src="http://pruszkowmowi.pl/wp-content/uploads/2015/06/tomiron-300x163.jpg" alt="Tomir Nowak" width="375" height="204" />z nieprawidłowe napięcie mięśniowe przy samym kręgosłupie. Jeżeli jako fizjoterapeuta zamknę ten temat w jakieś ramy, to zaraz będę hejtowany przez wszystkich fizjoterapeutów, więc może tutaj poprzestanę. Powiem jednak o ćwiczeniu z "fiszką" na kręgosłup - tutaj ćwicząc obie strony równo, staramy się scentralizować napięcie po obu stronach kręgosłupa. <strong>EC: I na koniec, jak zachęciłbyś do ćwiczenia z "fiszką" wszystkich sceptycznych?</strong> <strong>TN:</strong> Trochę mnie zagiąłeś. Każdy, kto jest zamknięty na aktywność, jest także oporny do mobilizowania ku ćwiczeniu. Nie przekonam was tym, że te ćwiczenia są wydolnościowe, bo nie są -  to ćwiczenia statyczne, bardziej wyrównują one napięcie, niż uelastyczniają mięśnie. Powiem po swoim przykładzie, dopiero po szóstym poprowadzonym treningu przestałem mieć po nich zakwasy, czyli to coś znaczy! Jeżeli chcesz się wyrzeźbić - sam po sobie widzę duże zmiany - masz otwartą głowę na zmiany i chcesz się zmęczyć to jak najbardziej polecam! <a href="http://pruszkowmowi.pl/wp-content/uploads/2015/06/11406103_1586762848240288_388347751979540729_o.jpg"><img class="alignleft wp-image-6144 size-medium" src="http://pruszkowmowi.pl/wp-content/uploads/2015/06/11406103_1586762848240288_388347751979540729_o-202x300.jpg" alt="" width="202" height="300" /></a> <strong>CHCESZ DOWIEDZIEĆ SIĘ WIĘCEJ?</strong> Napisz  lub zadzwoń do Tomira >> kontakt@t-line.pl / 660166458 Wejdź na jego fanpage'a na Facebook'u >> <a href="https://www.facebook.com/liniaT?fref=photo">T-line</a> A może fiszkę? >> www.fishskateboards.com PS. Żeby nie było, że kłamałem z tym ćwiczeniem w parku: <a href="http://pruszkowmowi.pl/wp-content/uploads/2015/06/11425061_1587223124860927_3053935822376854482_n.jpg"><img class=" wp-image-6146 aligncenter" src="http://pruszkowmowi.pl/wp-content/uploads/2015/06/11425061_1587223124860927_3053935822376854482_n-300x225.jpg" alt="11425061_1587223124860927_3053935822376854482_n" width="374" height="280" /></a>

Edgar

Czop

edgar.czop@gmail.com

Author

Urodzony i mieszkający w Pruszkowie badacz i aktywista. Absolwent stosunków międzynarodowych na Uczelni Łazarskiego, gdzie był przewodniczącym Koła Naukowego Młodych Dyplomatów oraz politologii na Collegium Civitas. Ukończył roczny program dyplomatyczny w House of Diplomacy. Wielokrotnie wyróżniony w konkursie Primus Inter Pares Najlepszy Student RP. Beneficjent stypendium ministra Edukacji i Szkolnictwa Wyższego za osiągnięcia naukowe. Analityk do spraw Korei i publicysta dla portalu mojeopinie.pl oraz redaktor portalu northkorea.pl, wieloletni bloger ("Świat, człowiek, toksyny"). Do obszarów jego zainteresowań należą m.in. kwestie związane z Półwyspem Koreańskim, polityka energetyczna, polska polityka zagraniczna, stosunki transatlantyckie, Unia Europejska i przemiany społeczne zachodzące na całym globie.

Pruszków Mówi